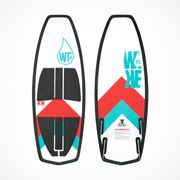 WAKETEC Wakesurfer Shaka 58' DEMO
Item number: 400022
---
Currently not available, delivery time on request
Order & pay until 2pm - same day dispatch (except Sat & Sun)
---
Directly from the manufaturer
More than 60 years of experience
30 days right to return
WAKETEC WAKESURFER SHAKA 58' DEMO
Thanks to its user-friendly shape the WAKETEC Shaka makes it super easy to stay in the wave. It is especially developed for beginners and hobby riders who have struggles surfing without the rope. The surf style shape helps to learn and improve quick. The wakesurf board feels very stable, controllable and generates enormous speed. The soft "full rail" edge always provides stability and consistency throughout turns. The rail holds onto the wave better, making it easy to stay in the wave´s "sweet spot" and sustain speed.
Advanced riders enjoy surf style boards like the Shaka thanks to their quickness and high speed maneuverability, ideal for big turns, slashes and airs. The 4 removable Future fins gives the wakesurfer more flexibility by adjusting the fin setup individually .
The WAKETEC Shaka is handshaped made of dual density EPS core which makes the board durable and shock-resistant. Thanks to its user-friednly and fast shape the wakesurfer can even be surfed in small wakesurf waves without rope. With a length of 147 cm the Shaka is ideal for surfer up to 100 kg bodyweight. The colour matching surfrope is the MESLE SKA 23'. Have fun and enjoy wakesurfing!
Shaka 58'' Wakesurfboard, for beginner and advanced riders, ropeless surfing even in small waves
Hand-shaped, high density EPS Core, durable and shock-resistant, EVA Pad with tall tail kick
4 fins with Future systeme, removable, individual fin setup
Surf Style Board, full rail, flat Continuous Rocker, lot of buoyancy and speed
Length 147,3 cm (4'10''), width 53,3 cm (21''), thickness 3 cm (1.2''), up to 100 kg bodyweight- 2nd. choice board with slight visual faults!
You might like
Ready for shipment, delivery time 1-2 working days