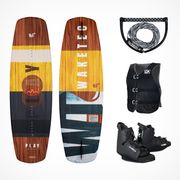 Waketec Wakeboard Set Play DLX, Bindings Duro, Rope One, Vest Sportsman
Item number: 41095774
---
Order & pay until 2pm - same day dispatch (except Sat & Sun)
---
Directly from the manufaturer
More than 60 years of experience
30 days right to return
WAKETEC WAKEBOARD SET PLAY DLX, BINDINGS DURO, ROPE ONE, VEST SPORTSMAN
Board:
The Waketec Play is very easy to ride, whether behind the boat or at the cable. The wakeboard has been developed with a Continuous Rocker, ideal for beginners and advanced wakeboarders. This allows you to turn more easily, improves the forgiving board characteristics and makes the board accelerate even faster. The wider Freeride shape gives additional buoyancy so that wakeboarding with the Play is much less strenuous.
Four deep grooved channels improve the board control and allow to turn smoother. Two long base centre-fins make starts easier for beginners. Thanks to the fins, the wakeboard turns straight into riding direction after starting. The fins can be removed for surface tricks to make sliding easier and master the first Switch tricks.
Choose between two lengths: 134 cm for riders from 40-70 kg weight or 139 cm for riders from 60-85 kg.
The wakeboard Play is not suited for riding obstacles!
Bindings:
The Duro bindings with newly developed base plate connects you even closer to the board, so you can control it more precisely. The hexagon structure provides high breaking strength. The footbed made of comfortable EVA is cushioned thickly, so that your jumps and obstacle slides are well damped.
The Floating Tongue construction adapts to your foot extremely flexible and allows easy entry. With the quick lacing, your foot can be laced tight, so that you do not slip and every movement reaches the wakeboard. Mount the binding easily without tools with the included M6 wing screws.
Your friends and family also want to ride with the bindings? No problemo, thanks to the variable adjustment range you don't have to make any compromises.
Choose between the sizes Junior (EU 30-36) or Adult (EU 37-45) - depending on the foot width.
Vest:
The Sportsman is a versatile buoyancy aid suitable for every youth and adult with 76-132 cm chest measurement or from 40 kg body weight. Typically the Sportsman is used for waterskiing, wakeboarding, sup, snorkeling and much more. The vest, made of 210 D strong nylon, has a light EPE foam with 50-N buoyancy which adapts perfectly to all kinds of body shapes. This makes the Sportsman the perfect water sports vest for the whole family.
Rope:
The MESLE ONE is the perfect rope for wakeboard beginners and hobby riders. The wide 15'' handle with comfortable EVA coating lies comfortably in the hand. The floating main line is adjustable in length from 16.8 m - 18.3 m.
Freeride wakeboard complete package for beginners to intermediate - not suited for riding obstacles!
Forgiving Continuous Rocker, wider shape for more pop and less effort
Long Base centre-fins, four deep grooved channels for traction and board control
Lengths: 139 cm (60-85 kg), 134 cm (40-70 kg)
Set with Duro bindings Sizes: Junior (EU 30-36), Adult (EU 37-45), rope One & vest Sportsman